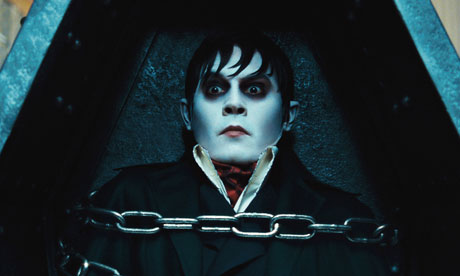 So, the new Dark Shadows movie finally opens this week. Fans have been strangely quiet lately, possibly exhausted from our constant bitching about the many, many things wrong with that first trailer. A lot of folks are too angry, while a lot of others are too forgiving. Most of us drew our battle lines a long time ago and have been content to sulk on the sidelines as Warner Bros has continued its hostile takeover of the Dark Shadows brand.


Our civil war hasn't been terribly civil, and I feel fortunate that this blog has forced me to take a moderate approach to the new movie. Yes, I know I used the words "hostile takeover" in the previous paragraph, but I'm mostly bitter about the way fans have been ignored by the Warner Bros movie machine. These are the people who kept interest alive in a television show for four decades after its cancellation. If anyone is talking about a Dark Shadows movie, it's because of the fans. Without them it would be just another cancelled TV show.


As far as WB is concerned, though, these people don't even exist. The studio had no significant presence at previous Dark Shadows festivals and have not reached out to any of the online fan sites. It's as though they decided long ago that the only audience they care about are 14 year olds who watch movies on their cell phones. I'm not suggesting the studios ignore the youth market, but I'd like them to stop acting like predators that are only interested in separating inexperienced children from their money.


I'm expecting the movie's marketing to reach a fever pitch this week and I've decided to let myself get a little excited about it. Yes,
I was deeply offended by the trailer
and made no secret that I thought the entire concept look like a tired rehash of
Austin Power
s and
Encino Man
. But it's a Dark Shadows movie that features a lot of impressive on-screen talent, so why not embrace that for a few days? If it's stupid to decide you like a movie you haven't seen, then why is it acceptable to declare war while suffering the same level of ignorance?
I'm going to try on a little optimism this week and see how it fits. I'm willing to be entertained.
Note:
Dark Shadows has an uphill battle ahead of it as The Avengers continues to dominate headlines and box offices. The Avengers brought in $200 million last weekend and, if the movie sees a 60% drop in ticket sales in the coming weekend, Dark Shadows will still have to pull in $80 million to avoid being an also-ran. It's not impossible, but it's unlikely.