You're going to have to wait a little longer for "Dark Shadows: Bloodline."
The 13-part sequel to last year's "
Bloodlust
" was originally set for release this fall, but a conflict in schedules with the cast has pushed back production of the series.
"With a project as big as this," said co-producer
Joseph Lidster
, "there are sometimes problems that are beyond our control. In this case, we can't get all of our actors in place to record their roles until later in the year. We've therefore decided to postpone the release of 'Bloodline' until early 2017."
This is a good news/bad news situation, in my opinion. Tom Petty might believe the waiting is the hardest part, but when he wrote that song he'd yet to see ALIEN 3. That movie is all the proof you need that rushing a production to meet an arbitrary release date will only end in sadness. Ultimately, nobody will remember if a piece of media arrived late. If it sucks, though, they'll remember it
forever
.
"To be honest, considering the number of people we're regularly attempting to co-ordinate from half a world away, I've been continually astonished and relieved that this hasn't happened before," said "Bloodline" co-producer
David Darlington
. "But we hope this is the first and last time. We're so keen to ensure that 'Bloodline' isn't rushed in any way, and that it's a worthy successor to 'Bloodlust' – and we can only say we're sorry for any disappointment this delay may cause."
News of "Bloodline's" delay has eased some of my gloomiest worries of 2016. There was a bit of a pall over this year's Dark Shadows Festival, which had a vague air of finality to it. I've been a little worried that this year might also mark an end to Big Finish's line of audio dramas, but that will not be the case. In addition to "Bloodline," the company will also be releasing several new "anthologies" in the coming year, following on the heels of last summer's "
Echoes of the Past.
"
The first, titled "Haunting Memories" is set for release in December and features
Lara Parker
,
Kathryn Leigh Scott
,
Jerry Lacy
and
Marie Wallace
. Details on the anthology are pending, but Big Finish has revealed that Wallace will be reading a story by
Kay Stonham
titled "A Face From the Past."
"A Face from the Past" is read by Wallace and tells the story of Elizabeth Collins Stoddard meeting a man who resembles the one true love of her life. Details on the anthology's other stories have not yet been announced. (Keep an eye on Big Finish's title listing
HERE
for updates. It's already available for pre-order.)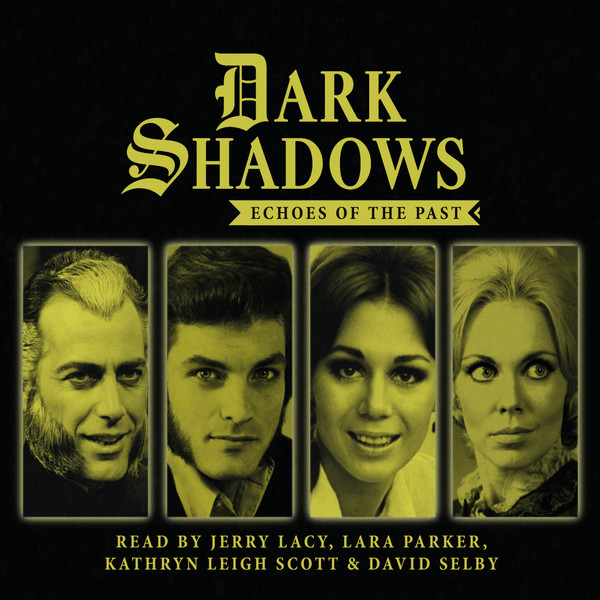 "I've been working with the writers of these stories for the last couple of months," says Lidster, "and I'm so pleased with the results. We've used a mix of writers – some new and some old favorites – and we've a real mix of storytelling styles. Listeners are going to discover why Barnabas and Julia really went to Cairo, what happened when Doctor Robert Harper investigated a poltergeist, how Professor Stokes first met the iconic Madame Findley and even what happened to local petty crook Harry Johnson. Some of the stories are big fun adventures and others are haunting personal pieces. I genuinely think they're some of the best drama we've ever produced so I really want to thank our writers - *deep breath* -
Rob Morris
,
Penelope Faith
,
Aaron Lamont
,
Ian Atkins
,
Ian Farrington
,
Alan Flanagan
,
Lila Whelan
,
Antonio Rastelli
,
Kate Webster
,
Paul Phipps
,
Daniel Hinchliffe
,
Cody Schell
,
Alan Ronald
,
Nick Myles
and
Antoni Pearce
."
Further details for the four collections - "Phantom Melodies," "Dreams of Long Ago," "Love Lives On" and "Shadows of the Night." – will be announced over the coming weeks.
"We're also working on another two boxsets, hopefully to be released in 2017," said Darlington, "which we'll be announcing once they've gone into studio. So rest assured that Dark Shadows is still very much undead and kicking."
Read the full announcement at Big Finish.